When the fish are biting, and the weather is nice, availability is limited, so be sure to contact me for reservations in advance. The numbers below are the best way to reach me.
RATES

3/4 Day (6 hrs) $700
1/2 DAY (4 hrs) $575


CONTACT
E-mail [email protected]
Home/Office 305-296-9794
Cellular 305-744-8985

ADDRESS
Flats Fever Charters
Capt. Rick Mager
1420 Washington Street
Key West, FL 33040

When booking multiple days of fishing, we settle up after each day of fishing. Deposit comes off the last day or days of fishing.
45 Years Of Experience Fishing Key West Waters
One Boat, One Captain operation
3rd Person is an extra $50.00
The Best Gear Available
Fly and Spin
No extra fuel charge or tax.
All Skill Levels
Beginners are always welcome.
Anyone can have a great day on the water.
AGAIN : When booking multiple days of fishing, we settle up after each day of fishing. Deposit comes off the last day or days of fishing.
Book direct, and we'll both save money!
I've been fishing and guiding Key West waters for more than 40 years. It used to be that hotels and concierges always wanted to help their people out by lining them up with the best guides. Well those days are long gone. When dealing with hotels today, they take 30% commissions. Your best bet is to deal directly with your captain. Find a good guide, and book directly. It's a good idea not to wait to the last minute. Experienced guides get booked ahead.
Does this tarpon have your name on it?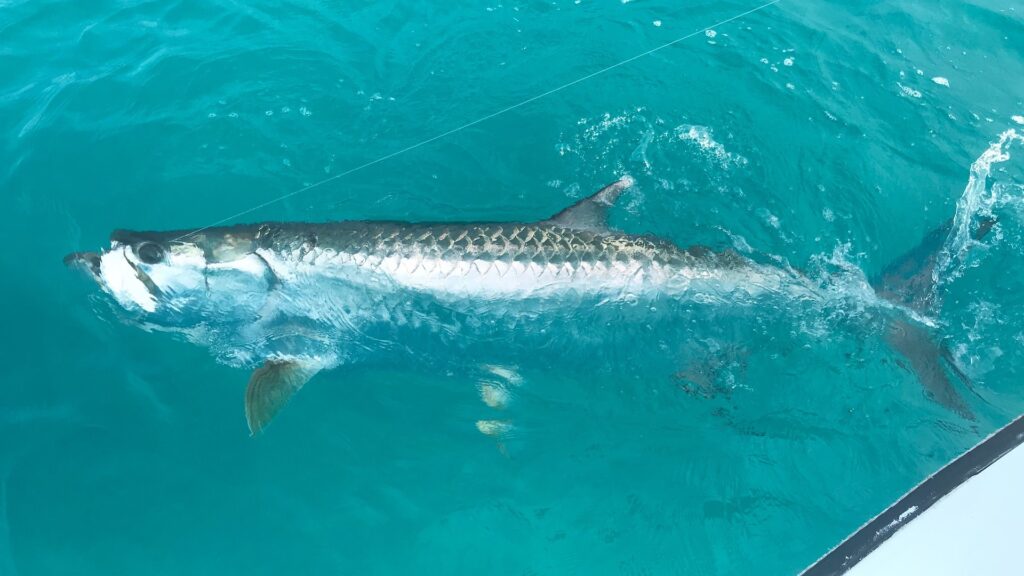 No words necessary.
Let me put it like this, anyone can show you pictures of fish and spend a lot of money on a fancy web site. They can talk about having all this "beauty", and being ever so powerful on the flats. I don't wear a face mask or have my own Hollywood TV show, but I can GUARANTEE that I will work hard to put you on the fish.
When you fish with me, I'll get you away from the crowds and into the pristine backcountry. You will fish the most beautiful places you can imagine. Using the lightest gear available, you'll go up against the world's best game fish. It's hands on fishing, whether you land 'em or lose 'em – you'll always have a great day on the water!
All you need to bring along on a trip is something to eat & drink, a good pair of polarized sunglasses, and some sunblock! I've got everything else covered including all tackle and licenses.
Leave your flip flops at home. The best foot gear is any shoe with a soft sole.
DEPOSITS
Trips require a $200 a day deposit.
If the weather is questionable the trip is at the captain's discretion.
If the captain cancels due to weather, the deposit can be reapplied to a future date, or simply refunded.
If for any reason client cancels the trip, the deposit will only be refunded if the day(s) can be rebooked.
Can accommodate a third person.