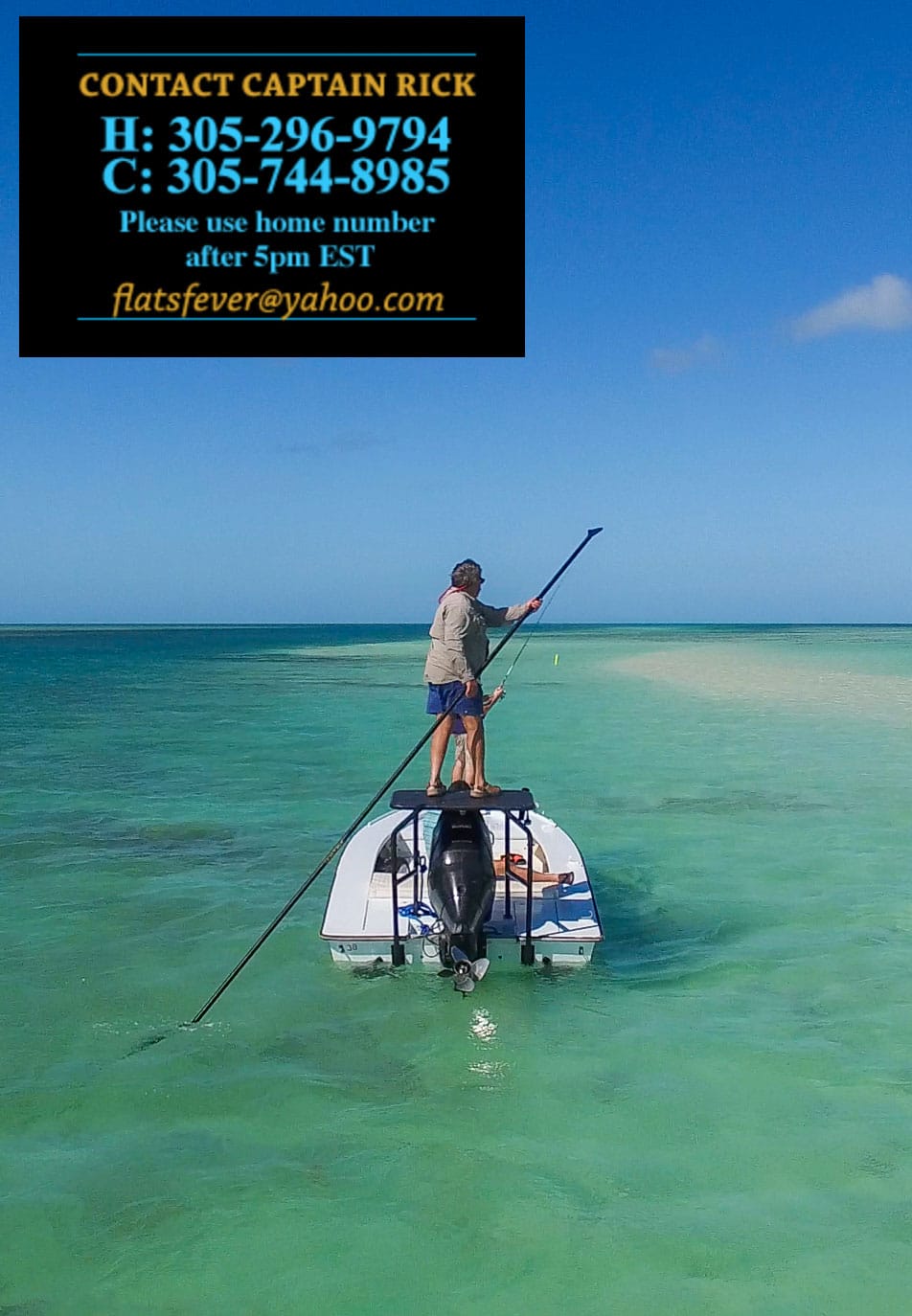 ---

---
Quantum Pro Guide Top Of The Line Tackle
---
Experience Key West flats fishing at its best with Flats Fever. Like no other fishing in the world, Key West flats fishing takes you into some of the most beautiful, unspoiled waters known as the Key West backcountry. Here, you can fish for tarpon, permit, bonefish, cobia and more. Key West fly fishing on a flats boat allows you to venture quietly into the shallow waters of Key West's famous backcountry where you'll experience incredible fishing in an uncommon, preserved ecosystem. Flats Fever is the Key West fishing charter that will get you into the action and adventure that is Key West fishing.
---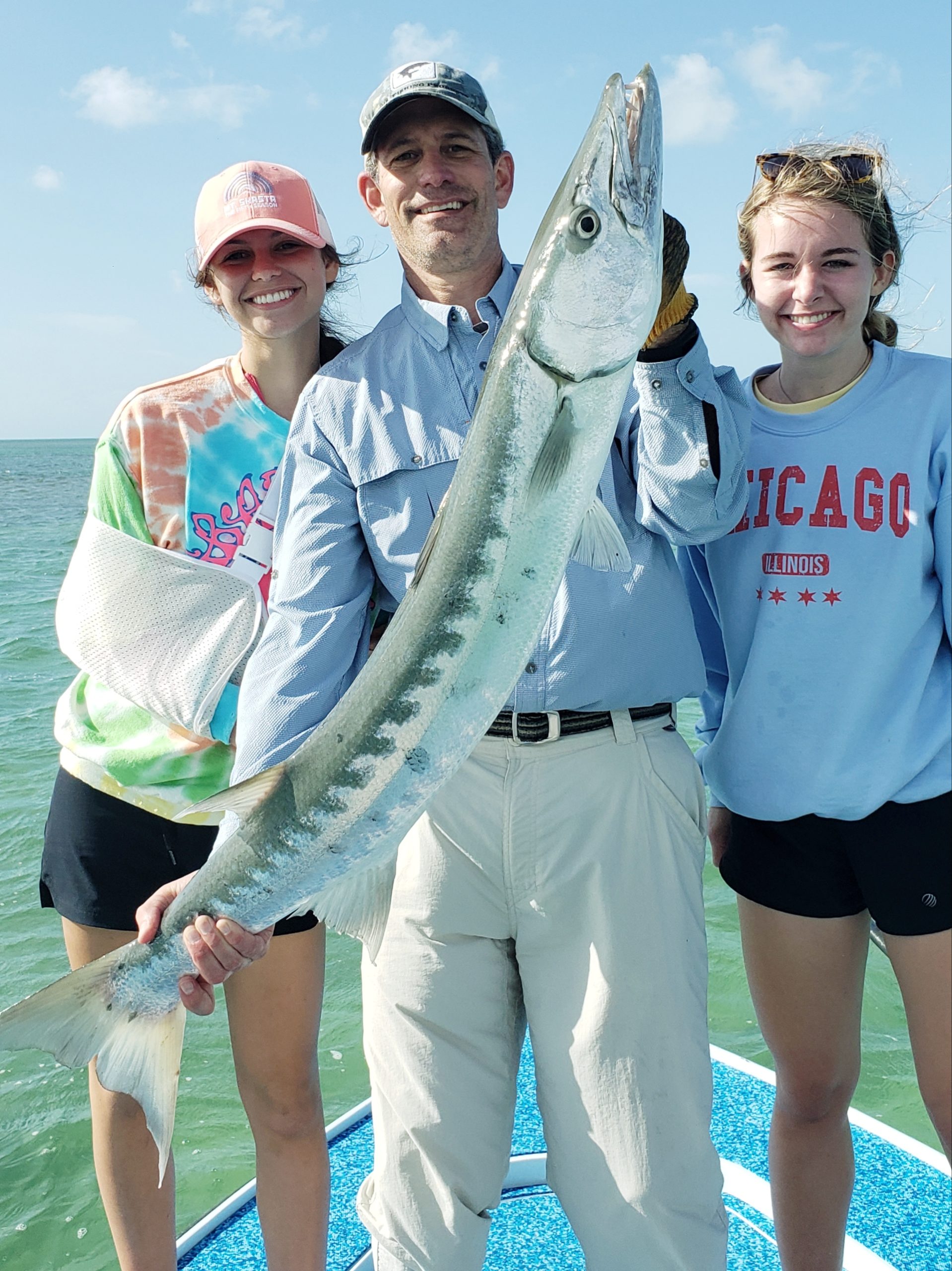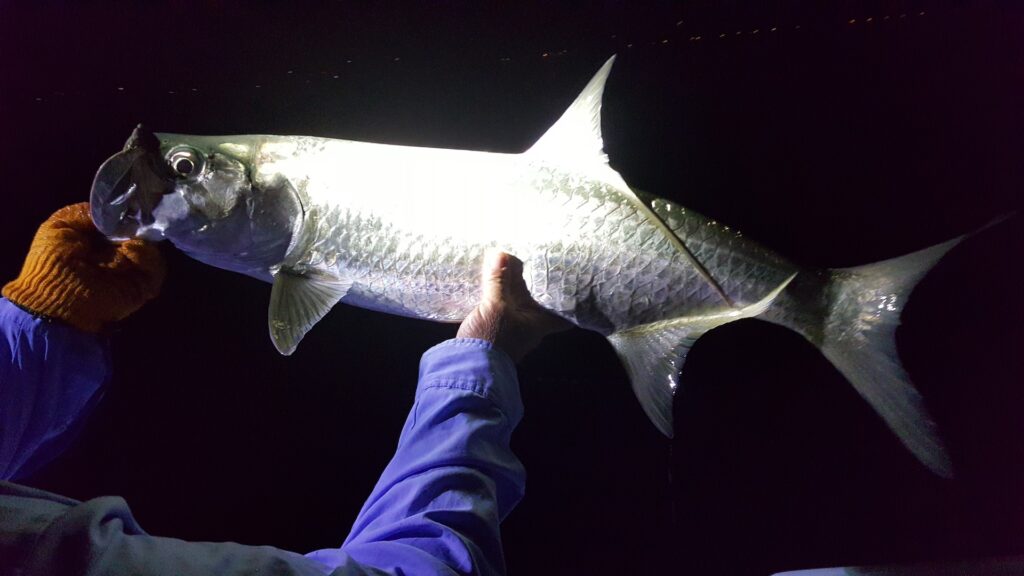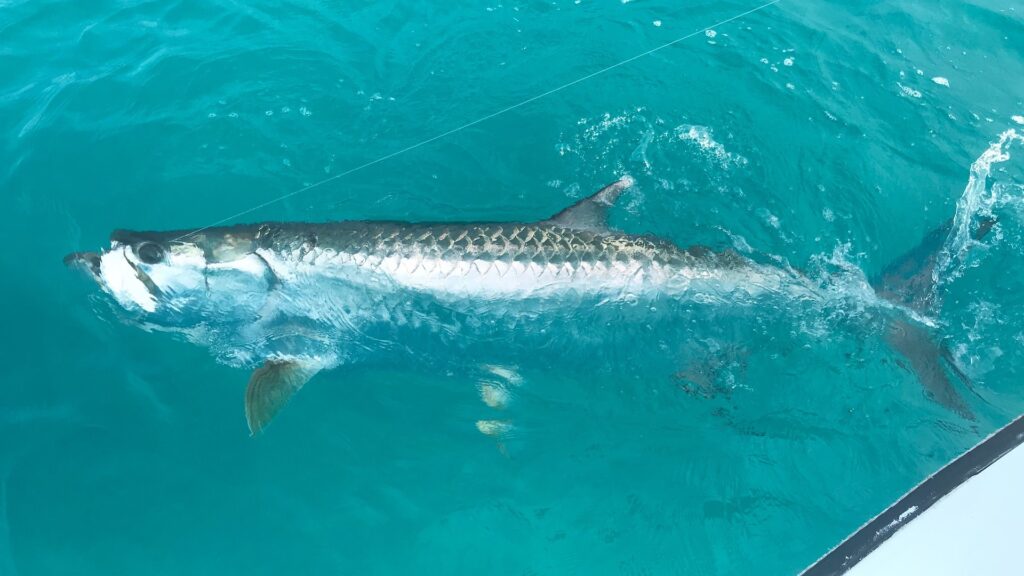 1 Boat, 1 Captain Operation
Key West light tackle fishing in the backcountry lets you see another side of sport fishing. With fly or light-spin gear, there are so many more opportunities to hook tarpon, permit or bonefish. When you've got an 80-pound tarpon on a fly or light-spinning tackle in three feet of water, your skills are put to the ultimate test. Key West flats fishing affords many unique opportunities. Where else can you go one-on-one with some of the world's most challenging game fish in just a few feet of clear water? Flats fishing will get your adrenaline pumping, and you'll never look at fishing the same. The hunt makes the trip exciting, but the surroundings allow you to relax and get back in touch with nature.
About Flats Fishing
---
There's a lot more to be learned on the flats than simply what kind of fish life is in these waters. Often, customers just want to relax in the warm sun and take in the magnificence of the nature that abounds all around them. For example, the shallow waters and countless mangrove islands present a great opportunity for environmental and nature photography. Here, you will experience numerous varieties of bird species and other marine life. Just some of the birds that inhabit the quiet back country are Spoonbills, Egrets, Blue Heron, Ospreys and Bald Eagles. There are Terns, Ibis and Cormorants. If you are an avid bird watcher, you'll love the flats. It's always great to see a hard-core fisherman come to Key West from northern waters, all full of energy, and anticipation, and watch him (or her,) slowly "unwind" once the peacefulness of it all comes "over them." It's the back country... the flats of Key West. It does it to you every time. It's no wonder that anglers come back again, and again.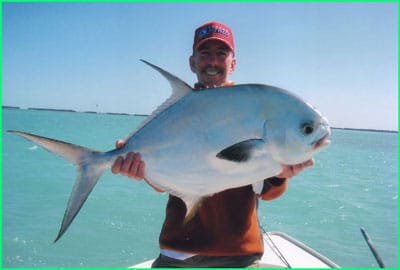 ---
THE FLATS
---
You bet. The back country flats are spectacular fishing grounds. Teeming with game fish, there is no better place on earth to fill your head with memories and stories of trophies.
---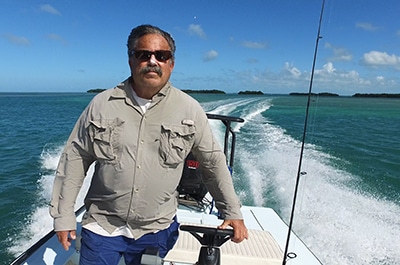 ---
Capt. Rick Mager
---
My name is Capt. Rick Mager, and I'll be your Key West flats fishing guide on my 18-foot Maverick 'Master Angler. With a 150 horsepower 4-stroke Suzuki engine
---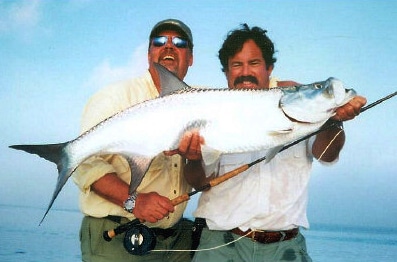 ---
FLY FISHING
---
Test your skill and precision on the flats of Key West chasing the big three. Using the most challenging of fishing techniques. Requires the ability to double haul cast effectively.
What About the Fish?
You might be interested in some of the more popular species of fish I encounter. So here, below, I'll give you a brief tour of just a few of the game fish I'll hunt for you... and you'll hook. I can't say enough about what it's like to fish the flats. It's something you just have to experience to believe. From the novice to the experienced anglers, flats fishing provides a great day for all.
Tarpon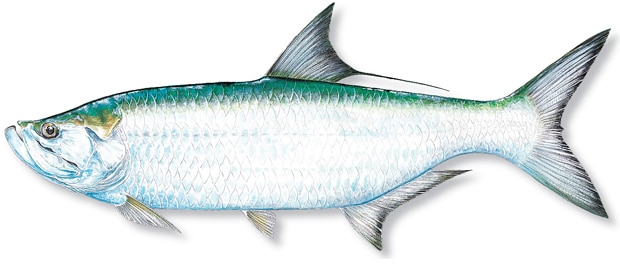 Tarpons grow to about 4–8 ft long and weigh 60–280 lbs. They have dorsal and anal soft rays and have bluish or greenish backs. Tarpons possess shiny, silvery scales that cover most of their bodies, excluding the head. They have large eyes with adipose eyelids and broad mouths with prominent lower jaws that jut out farther than the rest of the face.
---
COBIA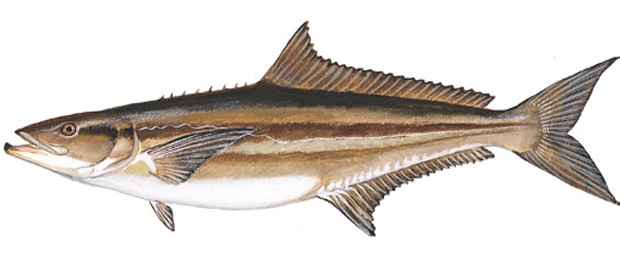 The cobia is normally solitary except for annual spawning aggregations, and sometimes it will congregate at reefs, wrecks, harbours, buoys, and other structural oases. It is pelagic, but it may enter estuaries and mangroves in search of prey.Attaining a maximum length of 2 m (78 in) and maximum weight of 78 kg (172 lb)
---
Mutton Snapper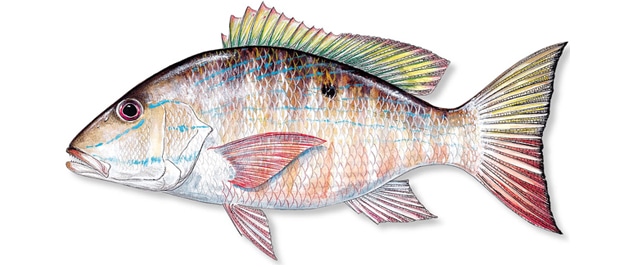 Mutton snapper, especially adults, tend to be solitary, but can be seen in smaller schools. Their flesh is considered by most as excellent table fare. Like most of the snapper family, the meat is white, flaky, and light, and is excellent prepared in a variety of ways.
---
Permit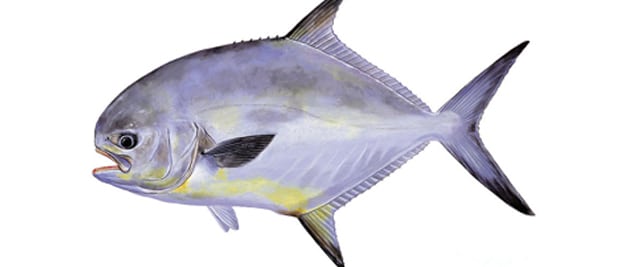 Permit are usually found in shallow, tropical waters such as mudflats, channels, and muddy bottoms.They are usually seen as individuals or in small schools; if approached when alone, they attempt to escape human interaction, but if approached when in a school formation, they become aggressive and can deliver dangerous bites.
---
Barracuda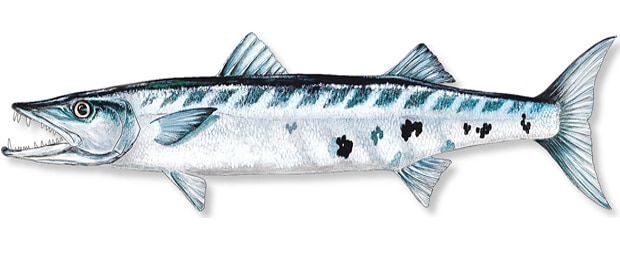 Barracudas are ferocious, opportunistic predators, relying on surprise and short bursts of speed, up to 27 mph to overtake their prey. Adults of most species are more or less solitary, while young and half-grown fish frequently congregate. Barracudas prey primarily on fish (which may include some as large as themselves).
---
Pompano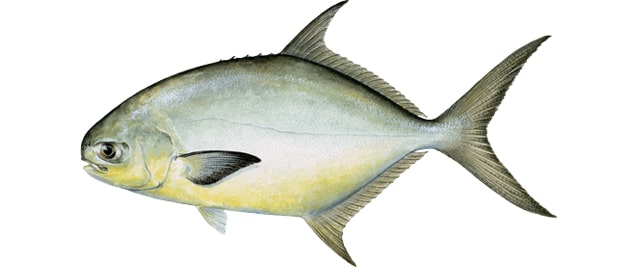 The Florida pompano is part of the jack family. It is very similar to the permit. It has a deeply forked tail and is blue-greenish silver with yellow on the throat, belly, and pelvic and anal fins. The first dorsal fins are low, with about six separate spines.
---
Bonefish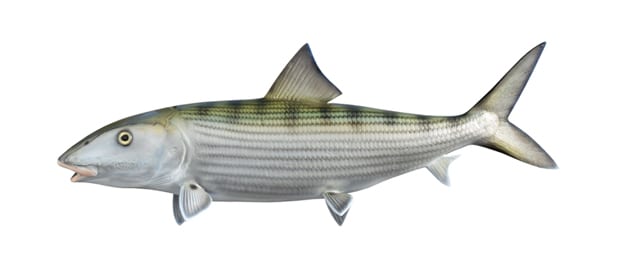 The bonefish weighs up to 19 lb and measures up to 90 cm (35 in) long. It is silvery in color with dusky fins.Fly fishing for bonefish, called bonefishing, is a popular sport in the Florida Keys. Since bonefish live in shallow inshore water, fishing may be done by wading or from a flats boat. Bonefishing is mostly done for the sport, so the fish are released.
---
Sharks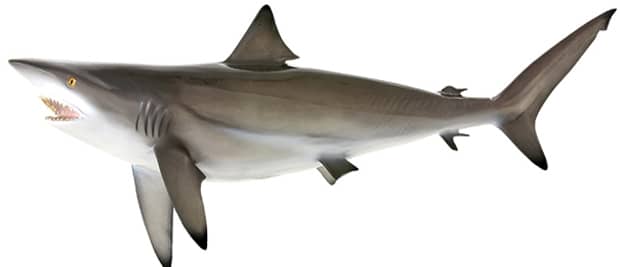 Swift, energetic piscivores, blacktip sharks are known to make spinning leaps out of the water while attacking schools of small fish. Their demeanor has been described as "timid" compared to other large requiem sharks. Other shark species might include bull sharks, bonnet head sharks, lemon sharks, and more.
---
Jack Crevelle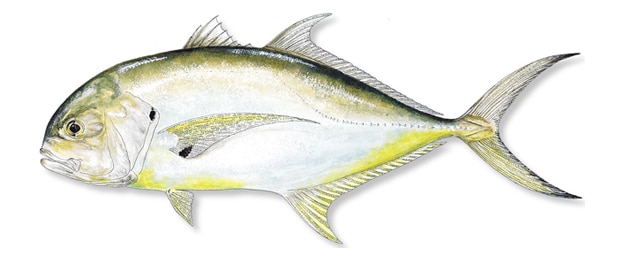 The crevalle jack lives in both inshore and offshore habitats, with larger adults preferring deeper waters than juveniles. In the inshore environment, crevalle jack inhabit shallow flats, sandy bays, beaches, seagrass beds, and shallow reef complexes.
I run a one-boat, one-captain operation – this means you'll get an experienced guide with a great flats boat and top-of-the-line tackle. There are quite a few multi-boat operations in Key West. These operations are owned and run by one person, but have multiple guides with less experience. You pay good money to fish, so why not have the best guides? One boat operations are the way to go. Guides that do it full time, for a long time, are your best shot!
---
The intricate maze of channels and flats on the calmer side of the Keys offers up some great fishing. No "chugging" along, hour after hour, on a big hulk of a boat, with diesel fumes filling the air, hoping that sometime during the day some kind of fish is going to pass by your trolling line and show some interest in your bait.
---
I love to fish and after fishing Key West for more than 40 years, I have the experience and know-how to back it up and provide you with the best possible day of fishing.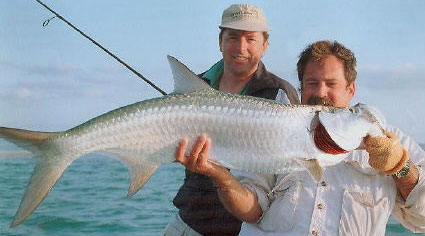 ---
¾ Day (6 hrs) $700
---
I've been fishing and guiding Key West waters for more than 40 years. It used to be that hotels and concierges always wanted to help their people out by lining them up with the best guides. Well those days are long gone. When dealing with hotels today, they take 30% commissions. Your best bet is to deal directly with your captain. Find a good guide, and book directly. It's a good idea not to wait to the last minute. Experienced guides get booked ahead.
1/2 Day (4 hrs) $575
All you need to bring along on a trip is something to eat & drink, a good pair of polarized sunglasses, and some sunblock! I've got everything else covered including all tackle and licenses. Leave your flip flops at home. The best foot gear is any shoe with a soft sole.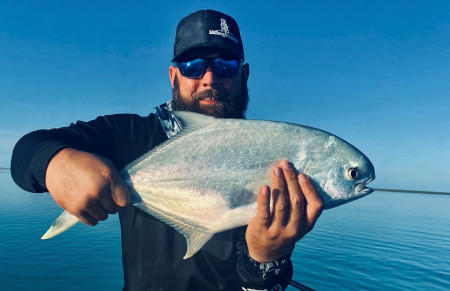 Get in Touch
---
DEPOSITS
Trips require a $200 a day deposit. If the weather is questionable the trip is at the captain's discretion. If the captain cancels due to weather, the deposit can be reapplied to a future date, or simply refunded. If for any reason client cancels the trip, the deposit will only be refunded if the day(s) can be rebooked. Can accommodate a third person.
It's About
---
Endless miles of crystal clear water
Sight fishing in shallow calm water
Using ultra light gear
Holding on to a big fish while he screams off 100 yards of line
Having a great day on the flats
---
Contact
---
Address 1420 Washington St. Key West, Florida 33040
Phone