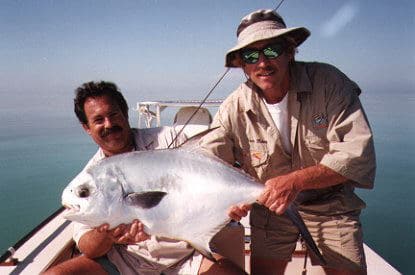 My name is Capt. Rick Mager, and I'll be your Key West flats fishing guide on my 18-foot Maverick 'Master Angler.' With a 150 horsepower 4-stroke Suzuki engine, no time is wasted getting you right onto the best flats in the backcountry. My Key West fishing experience dates back about 40 years. I began blue water fishing, but I now prefer poling the crystal clear backcountry flats. For the past 25 years, I've explored the Key West flats – east to the Content Keys and west to the Marquesa Keys, which encompass 60 miles of some of the most unspoiled waters in the world. If you want to experience Key West tarpon fishing, you'll want to start in the backcountry.
I run a one-boat, one-captain operation – this means you'll get an experienced guide with a great flats boat and top-of-the-line tackle. There are quite a few multi-boat operations in Key West. These operations are owned and run by one person, but have multiple guides with less experience. You pay good money to fish, so why not have the best guides? One boat operations are the way to go. Guides that do it full time, for a long time, are your best shot!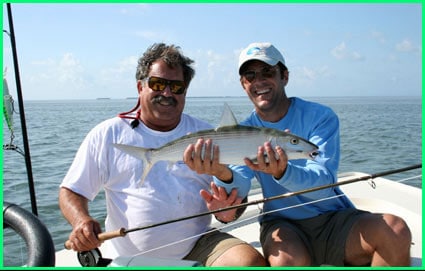 The intricate maze of channels and flats on the calmer side of the Keys offers up some great fishing. No "chugging" along, hour after hour, on a big hulk of a boat, with diesel fumes filling the air, hoping that sometime during the day some kind of fish is going to pass by your trolling line and show some interest in your bait.
For gear and tackle, I supply Sage fly rods and Pate reels. And when it comes to spinning gear, I only use top-of-the-line QUANTUM CABO rods and reels. Most guides will not spend the money or put expensive tackle into clients' hands. I, on the other hand, feel that good tackle makes a world of difference. Who wants to fish with cheap gear?!
My boat is also top of the line. It is fast, roomy, stable, and dry. I fish hard and know the best places to fish. I am also easy to get along with and do not mind teaching beginners. When you fish with me, you'll get away from the crowds and fish in the most beautiful places imaginable!
I love to fish and after fishing Key West for more than 40 years, I have the experience and know-how to back it up and provide you with the best possible day of fishing.
It's about:
Endless miles of crystal clear water
Sight fishing in shallow calm water
Using ultra light gear
Holding on to a big fish while he screams off 100 yards of line
Having a great day on the flats
When you have a moment, check out our exclusive Flats Fishing Report for the current fishing conditions for the month. You'll get an idea of what's up in our waters this month.  But first, continue on to our next page and read up a bit on the flats.
Oh, by the way, we're very proud of our philosophy…
"Return the Resource.  Catch and Release!"